This product qualifies for FREE SHIPPING*
More Info
Roxy Ladies Syncro 5/4/3 Back Zip GBS Wetsuit, a great winter wetsuit for ladies with top end Roxy super flexible neoprene, this version is fitted with a traditional back zip. 
Roxy Ladies Syncro 5/4/3 BZ Winter Wetsuit - Black/Jet Black
Roxy Womens Syncro 5/4/3 GBS Back Zip Wetsuit, a great winter wetsuit featuring super flexible StretchFlight neoprene made with glued and blind stitched (GBS) construction and with a back zip for ease of donning. A great winter wetsuit for ladies with all the quality you would expect from Roxy.
Roxy Syncro 5/4/3 BZ Wetsuit - Features
100% StretchFlight x3 neoprene warm, ultra-light & flexible
Thermal Smoothie on chest and back panels wind and water repellent to keep you warmer
WarmFlight® Far-Infrared thermal lining on chest and back transforming body heat into infrared energy to generate warmth
GBS (glued and blind stitched) seams for maximum flexibility and minimal water entry
Back zip entry with YKK™® #10 metal zip
Hydrowrap completely adjustable neck closure system for a watertight seal
Hydroshield water barrier prevents water from entering to keep you warmer
Supratex knee pads, durable, lightweight & flexible
Suitable for suggested water temperatures of 9°C 13°C / 49°F 55°F  - This is a guide only: Weather, sensitivity to the cold & conditions at your local break will affect temperatures & choice of equipment
Weight: 1.24 kg Please consult the size guide before choosing your wetsuit. Sizing may change depending on the product
Introducing the Roxy Syncro Series Of wetsuits - Video
MPN: ERJW103056-XKKK-6
More Information

| | |
| --- | --- |
| MPN | ERJW103056-XKKK-6 |
| Wetsuit Type | 5/4/3mm Steamer |
| Gender | Ladies |
| Zipper Type | Back Zip |
| Neoprene Thickness | 5/4/3mm |
| Wetsuit Features / Technology | Back Mesh Skin Panels, Back Zip, GBS - Glued & Blindstitched, Hydroshield, Hydrowrap Neck, Roxy StretchFlight X3 Neoprene, Roxy WarmFlight Thermal Lining |
Roxy Wetsuit Size Guide For Ladies
This size guide is provided by Roxy. When fitting a wetsuit is really important to remember it must fit snugly and should not be "easy" to get on. A wetsuit will give in height or width so if you are perhaps a little taller than the guide but slimmer the suit will probably stretch height with you and become a little slimmer in doing so.
| | | | | | | | | |
| --- | --- | --- | --- | --- | --- | --- | --- | --- |
| SIZE US | SIZE UK | HEIGHT (cm) | WEIGHT (kg) | CHEST (cm)    | WAIST (cm) | HIP (cm)          | NECK (cm) | INSEAM (cm) |
| 2 | 4 | 160 - 165 | 45 - 54.5 | 77.5 - 82.6 | 58.4 - 63.5 | 83.8 - 88.9 | 27.9 | 68.6 - 71.1 |
| 4 | 6 | 163 - 168 | 47.5 - 56.5 | 80 - 85.1 | 61 - 66 | 86.4 - 91.4 | 29.2 | 69.9 - 72.4 |
| 6 | 8 | 165 - 170 | 50 - 59 | 82.6 - 87.6 | 63.5 - 68.6 | 88.9 - 94 | 30.5 | 71.7 - 73.7 |
| 6T | 8T | 168 - 173 | 52 - 61 | 82.6 - 87.6 | 63.5 - 68.6 | 88.9 - 94 | 30.5 | 72.4 - 74.9 |
| 8 | 10 | 168 - 173 | 54.5 - 63.5 | 86.4 - 91.4 | 67.3 - 72.4 | 92.7 - 97.8 | 31.8 | 72.4 - 74.9 |
| 8T | 10T | 170 - 175 | 56.5 - 65.5 | 86.4 - 91.4 | 67.3 - 72.4 | 92.7 - 97.8 | 31.8 | 73.7 - 76.2 |
| 10 | 12 | 170 - 175 | 59 - 68 | 90.2 - 95.3 | 71.1 - 76.2 | 96.5 - 101.6 | 33 | 73.7 - 76.2 |
| 10T | 12T | 173 - 178 | 61 - 70 | 90.2 - 95.3 | 71.1 - 76.2 | 96.5 - 101.6 | 33 | 74.9 - 77.5 |
| 12 | 14 | 173 - 178 | 63.5 - 72.5 | 93.9 - 99.1 | 74.9 - 80 | 100.3 - 105.4 | 34.3 | 74.9 - 77.5 |
| 12T | 14T | 175 - 180 | 68 - 77 | 93.9 - 99.1 | 74.9 - 80 | 100.3 - 105.4 | 34.3 | 76.2 - 78.7 |
| 14 | 16T | 173 - 178 | 72.5 - 80 | 97.7 - 102.8 | 78.7 - 83.8 | 104.1 - 109.2 | 35.6 | 74.9 - 77.5 |
| 16 | 18 | 175 - 180 | 77 - 86 | 101.6 - 106.6 | 81.3 - 86.4 | 106.6 - 111.8 | 36.8 | 74.9 - 77.5 |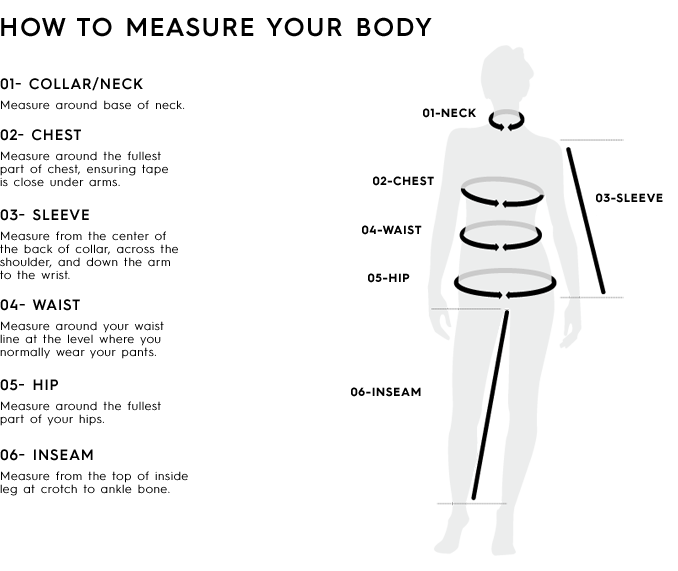 Putting on a wetsuit correctly
Ensure all zips are fully open and turn the torso down to the waist.

Turning the torso down is more critical with a chest zip or zipperless wetsuit!

Holding the ankle open push your foot into the suit
Once your foot is through the ankle work the suit up your lower leg in small stages.

Grip the suit with the pads of your finger tips NOT YOUR NAILS to avoid damaging the suit.
Work the suit up by holding the suit a few inches above the ankle.
Then move up a few inches and worjk the suit up again

Continue this process up the lower leg and ensure the knee protection is high (better to be slightly too high than too low!)
Work the suit over the upper leg in the same way 
Ensure that the crotch of the suit is very high and snug to your crotch before starting to work the torso up.
Again work the torso up in small stages (A good fitting suit will not allow you to simply pul it up the body easily)
For both chest zip and back zip suits pull the torso over your chest
Ensure that there is no slack between the crotch and the top of the suit.
Back Zip

Slide 1 arm into the suit again working the sleeve over your arm in small stages starting at the wrist and working up.
Once up fully slide the other arm in a repeat 
Once both arms are in push your shoulders back and pull the zip.
Once in the suit stretch fully, pull the neck off to allow air in and stretc again and squat to ascerain its a good fit

Chest Zip

Choose the arm that has the closed end of the zip and work that arm in first as above.
Once in then work the second arm in.
Stretch your arms and then pull the neck over in one movement while "ducking" your head and push your head through the neck.

Removal
When removing a suit you should peel the suit in the revers of the above.
Once removed the suit should be inside out