This product qualifies for FREE SHIPPING*
More Info
Roxy 4/3 CZ POP Surf Wetsuit, part of Roxy's Eco POP SUrf Range, this 4/3mm ladies Chest Zip wetsuit is ideal for spring, Autumn and UK Summer use. Made with ROyy's StretchFlight neoprene incredibly flexible and comfortable to wear all day. 
Roxy Ladies 4/3 CZ POP Surf Wetsuit - Princess Blue / Beetroot Purple
Roxy Ladies 4/3mm POP Surf CZ Wetsuit/Steamer, a part of Roxy's POP Surf eco range of wetauits and swimwear. Still featureing top quality super stretch StretchFlight X3 neoprene to give masses of flexibility and freedom of movement.
This 4/3 steamer features a chest zip for added flexibility and increased performance by reducing the flushing effect. A great wetsuit for SPring, Autumn and often a UK Summer!
Roxy POP Surf 4/3mm Ladies CZ Wetsuit - Features
100% StretchFlight x3 neoprene - warm, ultra-light & flexible

WarmFlight® thermal fleece lining on body & upper legs keeps body heat in and water out

GBS (glued and blind stitched) seams for maximum flexibility and minimal water entry

StretchFlight Taped internal seals makes all seams watertight

Horizontal front zip entry with YKK® #8 plastic zip

Flush Lock 2.0 stretch seals to prevent flushing through the wrist and ankles

Fused Edges on neck, wrists and ankles reduce profile to prevent flushing

Recycled polyester external lining

Water-based glue used for lamination

Ecto-Flex knee pads, durable, lightweight & flexible to protect you & your board

Suitable for suggested water temperatures of 13°C - 18°C / 56°F - 64°F

This is a guide only: Weather, sensitivity to the cold & conditions at your local break will affect temperatures & choice of equipment

Drainage holes

Weight: 1.01 kg

POP Surf: Sustainably focused for a better world
Roxy POP Surf - ECO-FRIENDLY
The POP Surf Collection is more than just a few sustainable pieces, it's our mindset and true forward movement in the right direction: from waste to reinvention.
100% regenerated polyamide fiber made from post-consumer materials
600 grams of solvent / VOC eliminated per wetsuit
104 liters of water saved by wetsuit
25 Plastic bottles per wetsuit recycled
Roxy POP Surf - Features Video
MPN: ERJW103063-XBBM-10
More Information

| | |
| --- | --- |
| MPN | ERJW103063-XBBM-10 |
| Wetsuit Type | 4/3mm Steamer |
| Gender | Ladies |
| Zipper Type | Chest Zip |
| Neoprene Thickness | 4/3mm |
| Wetsuit Features / Technology | Chest Zip, GBS - Glued & Blindstitched, Roxy StretchFlight X3 Neoprene, Roxy WarmFlight Thermal Lining |
Roxy Wetsuit Size Guide For Ladies
This size guide is provided by Roxy. When fitting a wetsuit is really important to remember it must fit snugly and should not be "easy" to get on. A wetsuit will give in height or width so if you are perhaps a little taller than the guide but slimmer the suit will probably stretch height with you and become a little slimmer in doing so.
| | | | | | | | | |
| --- | --- | --- | --- | --- | --- | --- | --- | --- |
| SIZE US | SIZE UK | HEIGHT (cm) | WEIGHT (kg) | CHEST (cm)    | WAIST (cm) | HIP (cm)          | NECK (cm) | INSEAM (cm) |
| 2 | 4 | 160 - 165 | 45 - 54.5 | 77.5 - 82.6 | 58.4 - 63.5 | 83.8 - 88.9 | 27.9 | 68.6 - 71.1 |
| 4 | 6 | 163 - 168 | 47.5 - 56.5 | 80 - 85.1 | 61 - 66 | 86.4 - 91.4 | 29.2 | 69.9 - 72.4 |
| 6 | 8 | 165 - 170 | 50 - 59 | 82.6 - 87.6 | 63.5 - 68.6 | 88.9 - 94 | 30.5 | 71.7 - 73.7 |
| 6T | 8T | 168 - 173 | 52 - 61 | 82.6 - 87.6 | 63.5 - 68.6 | 88.9 - 94 | 30.5 | 72.4 - 74.9 |
| 8 | 10 | 168 - 173 | 54.5 - 63.5 | 86.4 - 91.4 | 67.3 - 72.4 | 92.7 - 97.8 | 31.8 | 72.4 - 74.9 |
| 8T | 10T | 170 - 175 | 56.5 - 65.5 | 86.4 - 91.4 | 67.3 - 72.4 | 92.7 - 97.8 | 31.8 | 73.7 - 76.2 |
| 10 | 12 | 170 - 175 | 59 - 68 | 90.2 - 95.3 | 71.1 - 76.2 | 96.5 - 101.6 | 33 | 73.7 - 76.2 |
| 10T | 12T | 173 - 178 | 61 - 70 | 90.2 - 95.3 | 71.1 - 76.2 | 96.5 - 101.6 | 33 | 74.9 - 77.5 |
| 12 | 14 | 173 - 178 | 63.5 - 72.5 | 93.9 - 99.1 | 74.9 - 80 | 100.3 - 105.4 | 34.3 | 74.9 - 77.5 |
| 12T | 14T | 175 - 180 | 68 - 77 | 93.9 - 99.1 | 74.9 - 80 | 100.3 - 105.4 | 34.3 | 76.2 - 78.7 |
| 14 | 16T | 173 - 178 | 72.5 - 80 | 97.7 - 102.8 | 78.7 - 83.8 | 104.1 - 109.2 | 35.6 | 74.9 - 77.5 |
| 16 | 18 | 175 - 180 | 77 - 86 | 101.6 - 106.6 | 81.3 - 86.4 | 106.6 - 111.8 | 36.8 | 74.9 - 77.5 |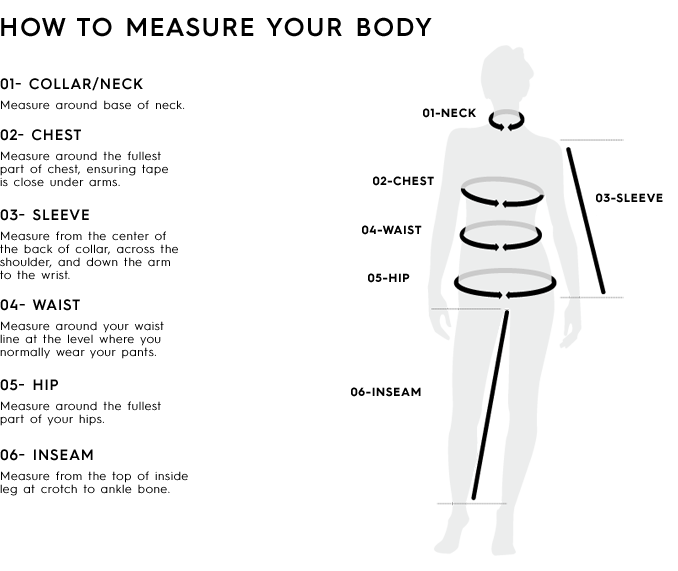 Putting on a wetsuit correctly
Ensure all zips are fully open and turn the torso down to the waist.

Turning the torso down is more critical with a chest zip or zipperless wetsuit!

Holding the ankle open push your foot into the suit
Once your foot is through the ankle work the suit up your lower leg in small stages.

Grip the suit with the pads of your finger tips NOT YOUR NAILS to avoid damaging the suit.
Work the suit up by holding the suit a few inches above the ankle.
Then move up a few inches and worjk the suit up again

Continue this process up the lower leg and ensure the knee protection is high (better to be slightly too high than too low!)
Work the suit over the upper leg in the same way 
Ensure that the crotch of the suit is very high and snug to your crotch before starting to work the torso up.
Again work the torso up in small stages (A good fitting suit will not allow you to simply pul it up the body easily)
For both chest zip and back zip suits pull the torso over your chest
Ensure that there is no slack between the crotch and the top of the suit.
Back Zip

Slide 1 arm into the suit again working the sleeve over your arm in small stages starting at the wrist and working up.
Once up fully slide the other arm in a repeat 
Once both arms are in push your shoulders back and pull the zip.
Once in the suit stretch fully, pull the neck off to allow air in and stretc again and squat to ascerain its a good fit

Chest Zip

Choose the arm that has the closed end of the zip and work that arm in first as above.
Once in then work the second arm in.
Stretch your arms and then pull the neck over in one movement while "ducking" your head and push your head through the neck.

Removal
When removing a suit you should peel the suit in the revers of the above.
Once removed the suit should be inside out